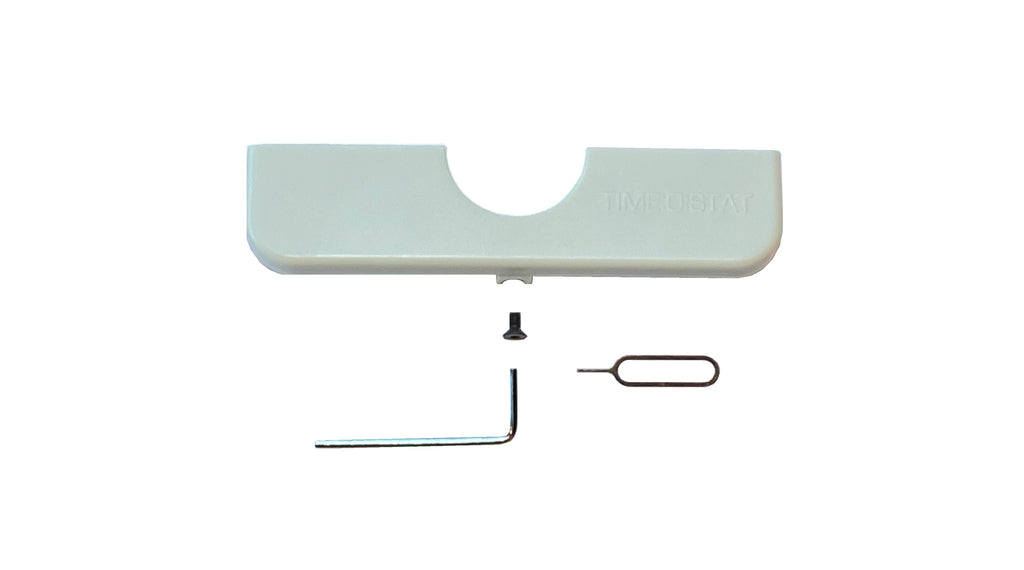 Time:o:stat
Time:o:stat Replacement Front / Battery Panel, Screw Bolt and Tools
This tool pack includes the most commonly misplaced parts of the Time:o:stat. They are universal to Time:o:stat versions 2 and 3 and are used for both battery and mains powered models. 
1. Front / Battery Panel
The front / battery panel is a re-designed part compatible with all version 2 and 3 Time:o:stats. It includes additional sponge rubber for battery stabilisation and upgraded, molded fins to help hold the batteries in place. This part can also be used as the front panel on the mains wired models.   
The font panel can be supplied in white (Time:o:stat 3.0) or grey (Timeostat 2)
2. Screw Bolt
This is the small machine screw hex bolt for attaching the front panel to the Time:o:stat.
3. Tools (Hex Key and Prong)
The hex key is for use with the hex bolt for accessing the front/battery panel. The prong is used for changing the dip switches for the advanced settings. 
These packs are 99p with 99p postage cost.
---
Share this Product